Pre-Holiday Goalie Camp with Coach Dave Caruso
Dec. 22 & 23, 2016 (Thur-Fri)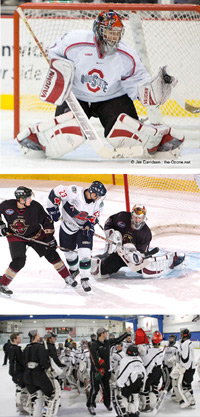 9:00am - 9:45 off-ice
9:45 - 11:15 am on-ice
11:15 - 12:00 pm off-ice

Ages: 8 and up - All levels welcome!

Cost: $155

FULL GEAR REQUIRED

Location:
OhioHealth Chiller North
8144 Highfield Drive,
Lewis Center, OH 43035

Off-ice will include video review, goalie specific dry land training (hand-eye coordination, quick feet drills, and conditioning).
Camp Focus Will Include:
Goalie Specific Movement (when and how to use t-pushes, shuffles, butterfly slides, c-cuts, lateral adjustments)
Proper Positioning and Depth Awareness (angles, square to puck, reading and reacting to game situations)
Proper Save Techniques and Execution (butterfly save, stick saves, body saves, glove and blocker saves)
Pro tips to help goalies STOP MORE PUCKS!
About Coach Dave Caruso:
Goalie Development Coach, New Jersey Devils (2012-2014)
6-season professional career (2006-2012)

52 AHL games
186 ECHL games

4 seasons at the Ohio State University (2002-2006)

11 shutouts and a 2.07 goals-against average
Helped lead team to 3 NCAA Tournament berths and the 2004 CCHA Mason Cup
Please contact Hockey Director Rob Schriner for more information - 614-791-9999 x125 or rschriner@thechiller.com.